Description
Would you like to learn how to add or change the photos on company's or personal brand's Wikipedia article?
Wikipedia is one of the most popular sites in the world, and people curious about you or your brand or company often visits it. What is this all about? And while they visit the article they see of course the photos used on it. These photos are also shown on Google's Image Search. Do you already make a good first impression or are the photos on the article…
very old
of bad quality
missing totally?
Johanna Janhonen, a long time paid Wikipedian and a voluntary Wikimedian, has written you the complete guide for companies and personal brands who want to learn how to add photos to their(*) Wikipedia articles.
(*) They can be the topic of the Wikipedia article but they do not own its content. Anyone can edit it too!
Johanna Janhonen who?
Johanna Janhonen has been writing to Wikipedia for her customers since 2010. But Johanna is not only a paid editor – she is also part of the global Wikimedia movement. She has been in the board of Wikimedia Finland for three years and was volunteering in Wikimania 2019 leading the social media team for the most important yearly seminar of Wikimedia community. In Finland she is among the top-50 most productive Wikipedia editors. So far she has been more active in Finnish Wikipedia but the amount of English edits is constantly growing.  As a Wikimedia member she respects the COI (conflict of interest) rules and is, unlike many other paid editors following the reporting rules very strickly. That's why she has got a "barnstar":

See what she has already edited.
During the years of paid editing she has been adding photos for her customers and helped them to add them byself.
On this complete How to add photos to Wikipedia articles (20 pages) Johanna guides you through:
Why do you need an account and how that's created
What kind of photos can be added?
What are free licenses?
The suitable image formats
Where the photos should be added and how this is done in practice?
When and how can some of the Flickr photos be used?
How the photos are added to an article
Tips for further reading
The guide was written in co-operation with
a professional photographer
a marketing professional of a big Finnish brand
two representatives of personal brands
a native English-speaking person who has also written Wikipedia guidelines
The guide contains tips and things to avoid, screenshots and good and bad examples of photos that have been used on Wikipedia or have been removed from there.
(The photos are pixeled for the preview purpose but properly shown in the real guide)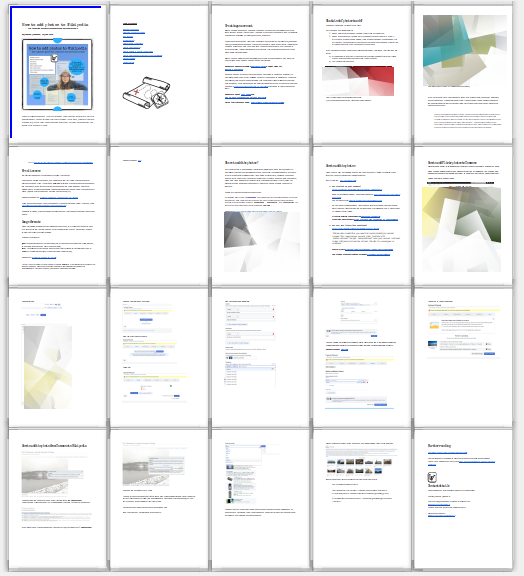 Now what?
Once you've paid for the guide you'lle get a link to the document. It's stored on Google Drive (but you don't need to sign in to get the access) and will be updated based on the user feedback and based on Johanna's own findings. So you can save it on your bookmarks and check it when ever you are working with Wikipedia photos, now or later.
Customer feedback
Johanna is Wiki-wizard! I recommend any articles that she writes! They are informative, helpful and crystal clear!
– Taura Stinson